TopFire Media is the Franchise Marketing Agency with leading full-service approach.
We are specialized in Digital Marketing and Public Relations to boost franchise development and lead generation
Franchise Experts
Backed by our sister company, iFranchise Group, together we can provide practical hands-on expertise to help your brand grow and succeed supported by a franchise marketing agency
Full Service
From public relations to franchise portals and direct mail to digital marketing across the US.
Our corporate and franchise digital marketing company does it all for you
Award Winning
TopFire Media has been recognized for the high quality work we do on the behalf of our clients.
Take a moment to check out some of our recent awards.
Franchise Marketing Agency
Meet the TopFire Media Leadership Team
Based in Chicago, TopFire Media is a corporate and franchise marketing agency serving a range of large-scale clients across the USA.
Our team of public relations and digital marketing professionals combine proven strategies and subject matter expertise to achieve high-octane digital marketing results.
A unique touchpoint in Franchise Development Marketing
Rather than committing to a franchise public relations firm with nothing to offer for lead generation, or hiring a digital marketing agency with no franchise experience (or, worse yet, hiring both!); choose TopFire Media as your single corporate and franchise digital marketing company. We provide the best of both worlds into one marketing machine of efficiency and effectiveness.
Download Our Franchise E-book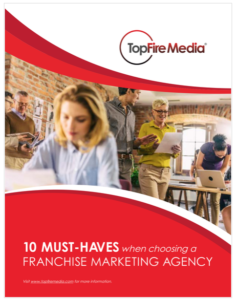 10 Must-haves When Hiring a Franchise Marketing Agency
Be sure you select a franchise digital marketing agency that understands your unique business needs and creates a custom-tailored marketing plan.
This e-book highlights 10 key things to look for when choosing an agency.
How Can We Help?
Let us Guide you in your Growth Path
Book an Assessment
Let us analyze your current website to find improvement opportunities
Get Inspired
Discover the many ways we can support your business