Tell a brand story worth hearing
Our experts can show you how
TopFire Media, an award-winning public relations and digital marketing agency, helps franchisors of all sizes craft targeted messaging and place it strategically before prime candidates. With a fully integrated approach and the counsel of our sister company, iFranchise Group, our team leverages content marketing as one of several winning lead generation tactics.
Don't let your brand message get lost in translation
Is your brand message effectively reaching qualified leads? Our team can dig in to discover the disconnect with a
FREE digital media assessment
! Contact us today and turn the page on a new strategy.
Develop your unique message with world-renowned franchise consultant Mark Siebert!
Honing your brand's unique message is the first step toward developing a solid franchise marketing strategy, and iFranchise Group founder and CEO Mark Siebert can show you where to start.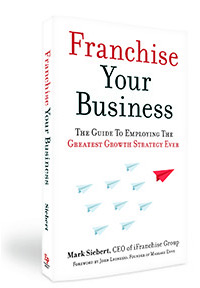 Enjoy this FREE downloadable excerpt from "Franchise Your Business: The Guide to Employing the Greatest Growth Strategy Ever," available now at major booksellers nationwide.
You'll learn how to:
Identify and address target franchise prospects
Strategically position your brand in the marketplace
Create a solid franchise marketing plan
Build out lead generation strategies
The franchise market is jam-packed with concepts. Make sure you position your brand in a way that attracts prospects' attention – and gets them to take the next step.
Download your free excerpt!